Charlbury II (A) – OCA Div 4
We rocked up to Charlbury to various surprising pieces of news. First up, Ryan had disappointingly dropped out of the team, leaving us a bowler short – although he had been replaced by Ben at the eleventh hour. Hopefully Ryan will be available again next week as our team is weaker without him. Better news was that we had Grant back in the team to bowl his swingers with the shiny new ball. Intriguingly, one of the opposition members was dressed up in a natty Bananaman suit in homage to his fancy dress party the previous night. Even more intriguingly there was a Charlbury ladies match about to begin on Charlbury's second pitch which drew particular interest for some members of the team who began to make inappropriate remarks about showering. This was not news the police would have been fond of hearing, particularly when it became apparent that more than a few of their team were less than 16 years old!
The ground itself was notable primarily for it's excellent facilities and we were impressed variously by the spacious changing room, the sign on the door which declared us The Wantage – We're glad you came and the sign on the wall which seemed to have been exclusively written for Colin: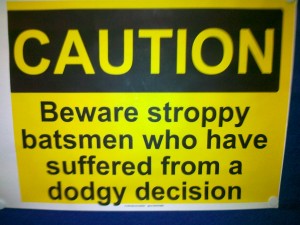 All that aside, the real business was the cricket and the attempt to make amends for yesterday's frailties. We were lucky to bowl first and in so doing kept our momentum going from yesterday. Grant and Will took the new ball and both kept nice tight lines, Grant gaining an early breakthrough with a stunner that pitched on middle and swung away to clip off stump. Charlbury's second wicket pair, however, looked composed and classy, although we always felt we were in with a sniff and we forced some catching opportunities – Mongo failing to cling on to a drive from a full toss whilst fielding at silly mid on, and Stewie couldn't quite grasp a low chance at gully. The only sour note was one misfield at point by Nick who up to then had been fielding calmly and without alarm.
Will's excellent spell took him to 9 overs, and it was finally with his last ball that he captured a deserved scalp, the Charlbury number three chasing a wild one and edging to Ben behind the wicket. With Barry at the other end keeping things tight we were well on top, and our ground fielding was excellent, with nothing getting through 'the wall' at mid-off and mid-on, and some excellent work at square leg by Nordic. When Colin brought himself on and immediately bowled the opener on his leg stump, we were really in the driving seat and we capitalised. Barry had one man caught at mid-off and Colin got another, after being promised by Ben that he would sniff his beard if he got another wicket. No matter how many times that is re-read, it will still be there, I'm afraid.
Then came an amusing moment when a chance which went three times as high as it did long was put down. It landed virtually on the stumps and bowler Barry couldn't quite cling on, and hit his head on the ground to compound the misery. Not for the first time this year after sending someone to third man (Mongo was the recipient on this occasion) Barry failed to take a chance of his own – instant karma?! In his defence it was a tough chance – but so was Mongo's!
Luckily it wasn't a big issue as Barry had the same man caught at long-off by Ian next over and despite a few more shots the score was creeping up only slowly on what was a lightning quick outfield so we felt comfortable even with the few boundaries that were now being scored. Colin secured his third wicket with an LBW shout which the batsman wasn't 100% keen on, and both he and Barry finished their spells with 3 wickets each. A rare over from Ian was met with a even rarer wicket for Ian, as a full toss was despatched to the square leg boundary where Dave took an excellent catch running in. Next over the innings was all done as crippled 'old man' Grant found an extra reserve of effort despite his matchstick knees and got the number 11 to pop to Stewie in the gully where he took a simple catch. Charlbury were all out for 120.
Ben and NiB opened our innings to some stormy opening spells, and there was a lot movement for the opening bowlers, so it was not a great surprise when Ben edged to slip and was caught for 4. Ian had been promoted to number three for this game, and he began in edgy fashion, with a wild swing from his first ball one of the more questionable moments of the match. Despite a great many plays and misses, Nick at the other end was at least looking fairly calm and assured, and he was duly dealt a stroke of luck when he 'NiBbled' (ho ho) at one down the corridor and got an edge to slip where the chance was missed. Ian got his own stroke of luck the following over when a wild hoik at a ball outside off stump came screaming of the edge but was put down by the wicket keeper. As Nick rightly pointed out though, it's about time our club had some luck after some of this seasons' events!
The fiery opening spells came to an end as Nutt pulled up with a sore hamstring and Mayho bowled his allotted 7 over spell (as a 17 year old he couldn't bowl any more) which was a bonus for the Wantage. The support bowlers offered slightly more room for manoeuvre and Ian began to work the off-side with some nicely timed hits for four. The belter of a pitch and outfield was certainly doing both he and Nick a world of good and as time went on the run rate began to increase well above the three an over we required.
Ian brought up his 50 with a blistering cover drive, and with Nick ably playing the more reserved anchor role to which he is so accustomed the pair saw the score over 100. Nick showed a touch more finesse than Ian in playing a glorious back foot drive for four through the covers and up the hill, but it was a succession of boundaries in the 27th and 28th overs which saw us home. Ian hit a six and two fours from Charlbury's off spinner before finishing it off with a baseball batted four past the bowler to see us to a 9 wicket win. Nick finishing on 31* and Ian on 74*. Ian's first twenty two balls had brought only 2 runs and approximately 20 plays and misses, but the last 51 balls brought 72 runs.
On the sidelines there had been some excitement as Grant learned that he was seeing a girl related to Mongo, and also reached fourth base with Stewie on a romantic walk around the pitch. So a good day for all, finished off with beer and curry back at the club. Next week's match with Chesterton is again the crunch match – shades of 2011!
Champagne Moment was Dave's cracking catch at square leg. Also nominated were Ian's six and Grant's early swing-a-ling-a-wicket.
Pig's Ear went to Barry for his dropped caught and bowled. Nominations also went to Ian for aiming his first ball somewhere into the next county and missing, and NiB for his misfield at point.
Man of the Match went to Ian for his 74*, although NiB, Will and Barry were all worthy nominees.
IC